This Fiano shows lemon, ginger and nutmeg on the nose.
Cashew texture combined with sweet apple and citrus fruits on the palate.
Vineyard

Three Ponds Vineyard, Broke
Winemaker

Michael McManus
Citrus and white pepper aromas, there's a whiff of white lily as well. Driven by lemony citrus flavours, there's some cool greener flavours that work through nicely and the acidty is crunchy and lively. An edge of phenolic grip gives texture and savouriness.
Aaron Brasher – Real Review – 87/100
Very pale-yellow green in colour, primary aromatics on the nose include stone fruit & ginger. The palate is extremely clean and fresh with relatively high acidity mingling well with spicy citrus notes on the palate. This is a complex and lingering wine. In my view Mt Eyre produces the best Fiano in Australia.
Dr Ron Georgiou MW – Wine Oracle – 94/100.
The suite of whites here is good. While I'd Iike to see this half a degree riper, riding phenolics as much as freshness, there is ample personality. Bitter almond, fennel, orange blossom, grapefruit and a candied citrus twist. The finish is a bit tangy, but there is enough weight for balance and pleasure. A little oak in the mix has helped.
Ned Goodwin MW – Wine Companion 93/100
Mount Eyre Vineyards Three Ponds Hunter Valley Fiano 2021. Fiano is so mainstream now, no-one even jokes about Fionas any more. Faonis and foanis are still fair game however. Good characterful stuff without the burden of having to write home about it.
Max Crus Saturday Wine Column – 9.2/10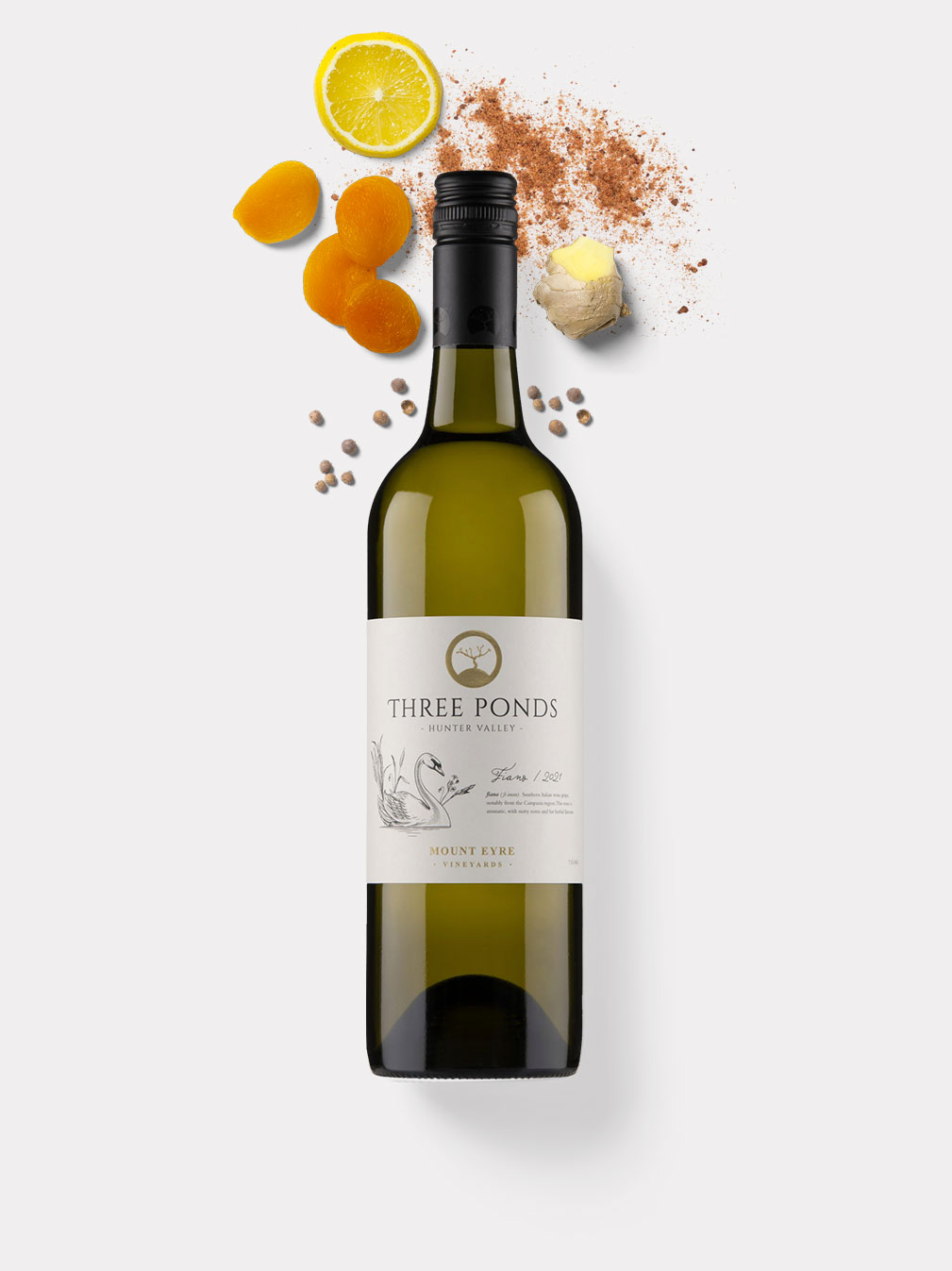 Fiano and food
Fiano is a wonderfully versatile wine that pairs perfectly with so many foods! Fiano is a flavorsome varietal that shows citrus, stone fruits and nutty characters. It sits in the centre of both body and sweetness profiles, so is almost universally liked by wine drinkers. We recommend seafood, chicken and creamy pasta dishes. A summer picnic, an antipasto platter and a crisp glass of fiano is also a delightful combination.